Leverage our Internet of Things-based 

solutions to improve your healthcare services
Smart Healthcare solution includes a Smart Clinical Trial Management System that aims to address the pain points in the existing clinical trial process. It also makes the process more insightful by capturing patient vitals in real-time and making reports available to Clinical Research Organizations (CROs) -even when the patients are at a remote location. This meets the requirements of CROs, which depend on this data to monitor and inspect the overall progress of the process and understand the effects of the drug. It also enables them to access real-time data, which is a crucial factor in evaluating the status of the drug and its effect on the patient's body.

Produce  medical reports on-the-go

​

Detect mishaps and get notifications 

​

Pay immediate attention to patients  

​

Improve the quality of patient care 

​

Easy access to comprehensive medical 

records

​

Robust integration capabilities with exiting 

systems

​

Safety, Security & compliance
Lack of real-time patient monitoring 

​

Ensuring availability of required resources 

​

Lack of accuracy in vital measurement

​

Scattered patient's health record

​

Lost/ damage of medical record

​

Higher operational cost

​

More human resource involvement

​

Limited visualization of data






Hospital Management

​

Nursing Management

​

Clinical Trial Management

​

Pharmacy Management

​

Patient care
Equipment Availability and Downtime 

​

Equipment Accuracy 

​

Compliance 

​

Net Operating Profit 

​

False Alarm Rate 

​

Energy Management
Patient-Generated Health Data (PGHD)
​
Patient-generated health data is any piece of health-related information generated or documented by patients or caretakers. ​
PGHD includes data pertaining to a patient's health or treatment history, lifestyle choices and symptoms among other things that are either reported by the patients or collected using wearables as well as Internet-enabled medical devices.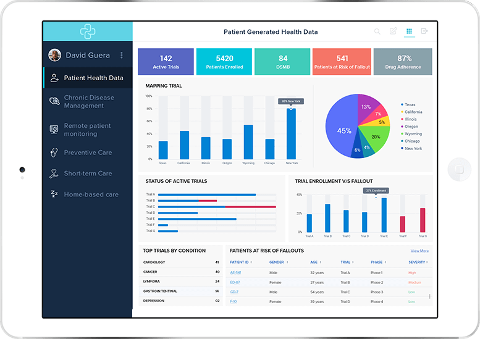 Chronic disease management
It is important for people suffering from Chronic diseases to constantly take care of them between their visits to doctors and IoT-based devices can come in handy for them.
Wearables as well as other devices like glucometers, heart monitors and asthma tools among others can help patients keep a track of their health.
The Internet-enabled devices save their health related data on the cloud, which can then be accessed by medical professionals.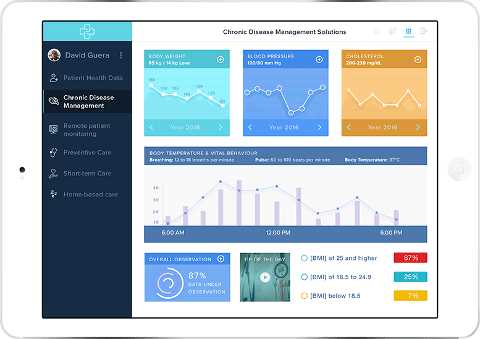 Remote patient monitoring
Remote patient monitoring is a boon for people living in daycare centers or community health facilities.
Tiny IoT-based devices can capture PGHD that can be remotely reviewed by medical coaches and professionals.
This is an effective way of keeping tabs on a patient's health and suggesting course corrections in case a particular treatment proves to be ineffective.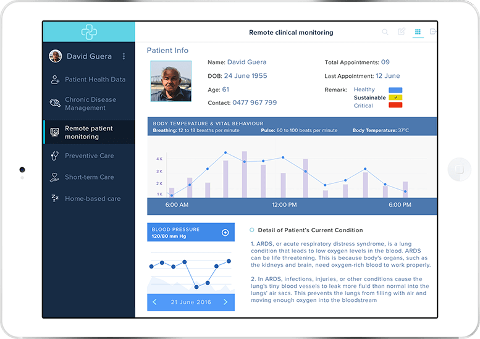 Preventive care
Application of the Internet of Things in the healthcare industry can also be useful for healthy people who are not suffering from diseases and wish to prevent problems in the future.
Health-related data can be captured by anyone on a daily basis which can be shared with medical professionals.
This can help in the detection of even a minor problem and prevent illnesses in the long run.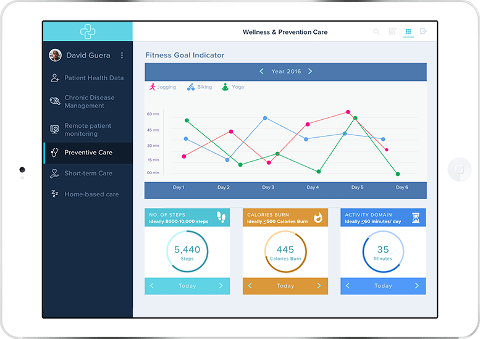 Short-term care
Short-term care can be provided to people who have been discharged from the hospital after a surgery or after receiving treatment for an acute illness.
This type of care eliminates the need for visiting the hospital during the recovery phase, allowing patients to receive quality healthcare within the comforts of their homes.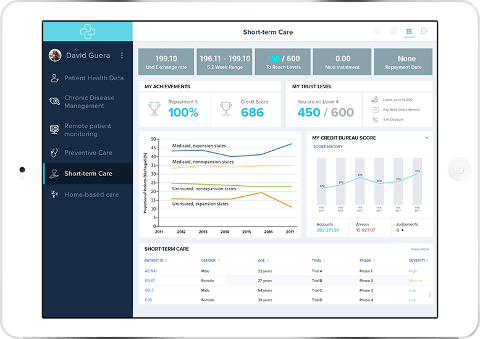 Home-based care
Assisted living facilities may not be able to accommodate every senior citizen who lives alone. Hence, medical care providers can identify the ones who are healthy enough to stay at their own homes and help them use IoT-based devices to track their health.
By monitoring their condition in real-time using the data collected by those devices, they can instantly attend to the ones who require it.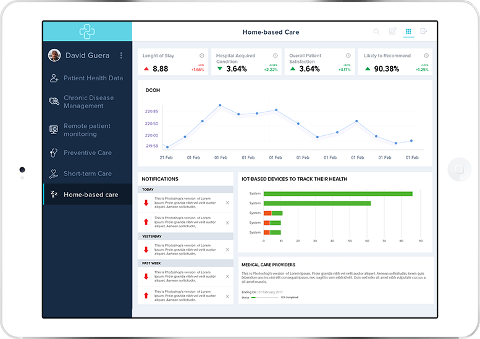 Du ønsker at udnytte fordelene i cloud. Vi hjælper dig med at realisere dem.
Kontakt os via kontaktformularen, på telefon +45 8082 6290 eller
e-mail service@timengo.com.